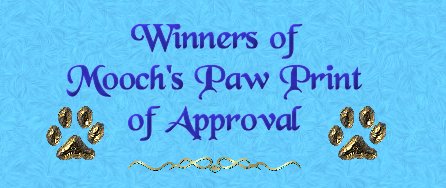 Below is a list of the Winners of
Mooch's Paw Print of Approval.
Please take some time and visit their
Beautiful Web Pages. They are really
excellent and Mr. Mooch feels honored
to list these sites here.

If you would like to receive
Mooch's Paw Print of Approval
and be listed among the Winners,
please click on the button below
Quick Navigation to our other Exciting places:

Copyright 1999-2015 © The Mooch Train
All Rights Reserved.