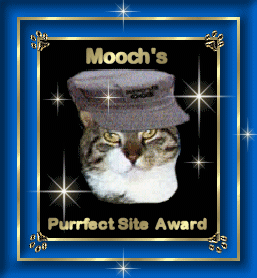 Welcome to Mooch's Paw Print
of Approval.
If you would like to receive one of
our Awards, please send us an e-mail
and we will come and visit your site.
Your web site should be mainly about
Cats, but other pets are also welcome.
Mooch will not accept sites with
pornography, offensive language,
or cruelty to animals.
Mooch loves to look at pretty pictures
of your furkids and is looking forward
to visiting your beautiful site and
sending you one of his Awards for
all the excellent work you have been
doing on your Web Page. See you soon!

Below is Mooch's second Award in
non-animated style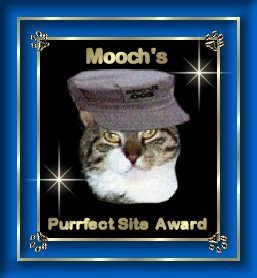 Just send Mooch an e-mail and he will
visit your site. Please let us know which
Award you would like and we will send it
to you as soon as Mooch gives your Site
his Special Paw Print of Approval

Please link your Award
back to the Mooch Train at:

Quick Navigation to our other Exciting places:

Copyright 1999-2015 © The Mooch Train
All Rights Reserved.